'Gunner' Denise Speight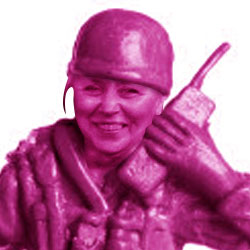 Telescope overlay
Founder of veterans of war
I am now retired having spent many years in the legal profession in London.
Having been involved in various charities from the age of 14, together with input from family and friends, I decided to embark on setting up a new charity as there was a gap in the market and I felt we could cover this.
At events, I am often found on the front door, hence the name 'Gunner' - I can also be found floating around dealing with any issues that the charity needs sorting - I have a very "hands on" approach at events and leave nothing to chance, as a team, we work hard to give value for money to our supporters which helps to make VoW what it is.
In November 2013 Denise was awarded the Commandant General's Commendation and more recently, in March 2015, Denise was handed the prestigious Freedom of the City of London award for her outstanding services to charity. More information about the award can be found here: https://www.cityoflondon.gov.uk/about-the-city/history-and-heritage/Pages/freedom-of-the-city.aspx
Meet the other troops in the regiment...